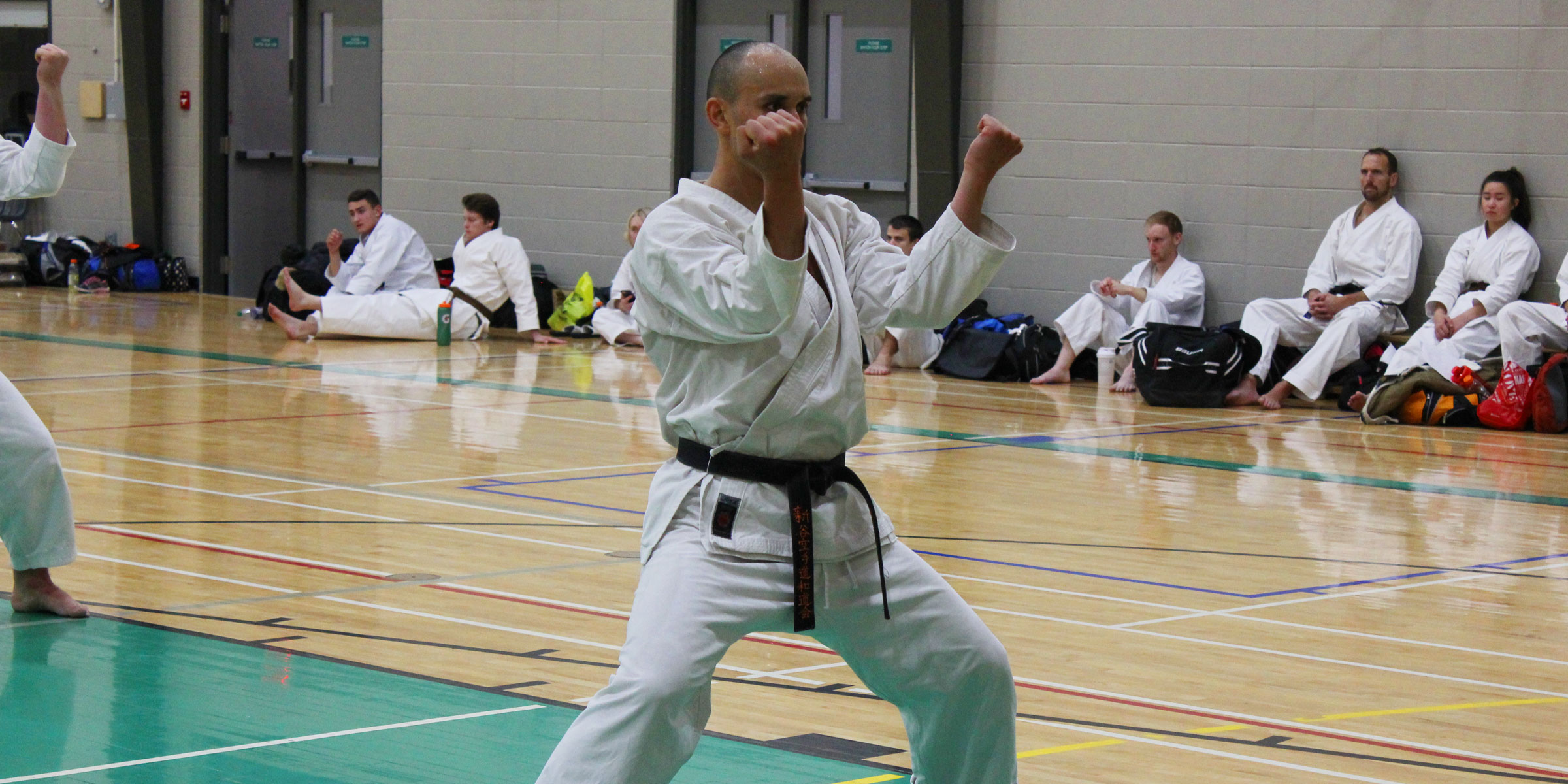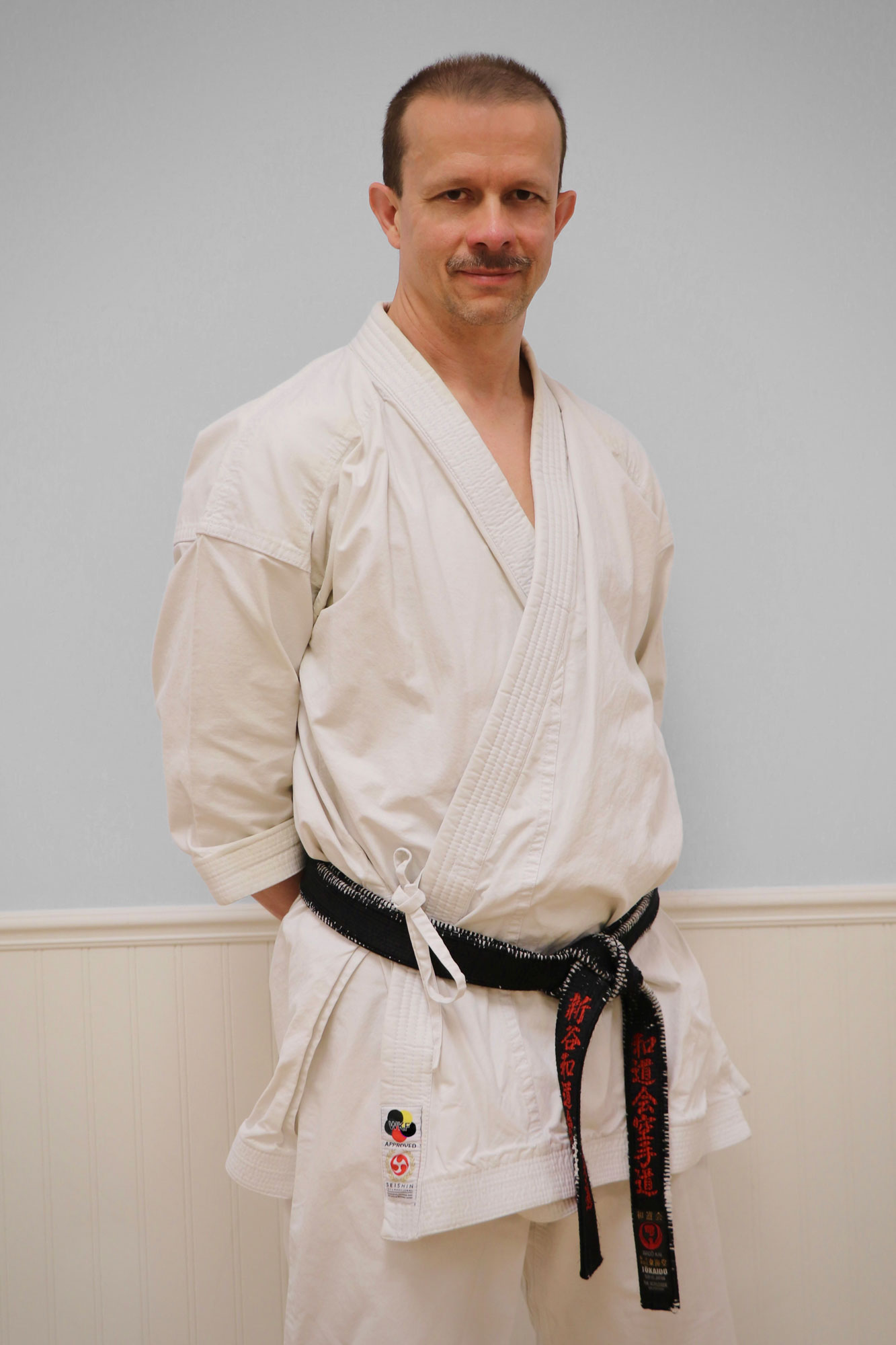 James Freeman
Director, Secretary, Treasurer
Grading and Curriculum Committee Member, Marketing Committee Member
Sensei James Freeman, 6th Dan, has been teaching youth programs in the University area since 1989. Sensei started karate in September 1985 at the University of Alberta and received his Shodan by August 1990. He has competed in many competitions over the years, winning in both kata and kumite, and went to the National SWKKF Tournament in 1992 and 1996.
Sensei Freeman has also studied Iyengar yoga and has competed in numerous triathlon and running competitions since 2003. He is a two-time 1/2 Ironman finisher, and a six-time 1/2 marathon finisher with a personal best at the 2007 Okanagan Half Marathon of 1:27:35. He studied Resistance Training with the Alberta Fitness Leadership Certification Association, and has brought free weights, resistance bands, and stability balls into the core karate training program for adults. In 2008, Sensei was certified by Sensei Iain Abernethy as an Instructor in his Bunkai Jutsu teaching methods. Since 2010, Sensei has been an Outdoor and Indoor Soccer coach with the Edmonton Minor Soccer Association. Sensei Freeman is a Professional Engineer with APEGA, and received both an MBA and a MSc in Electrical Engineering from the University of Alberta. He owns his own consulting company Valentis International Inc, sits on Boards, is an active angel investor and Executive-in-Residence with the Foresight CleanTech Accelerator, advises the Alberta IoT Association, and is SVP Digital Strategy at Westgen Technologies Inc.
Sensei Freeman achieved his 6th Dan on May 5th, 2018, in Edmonton.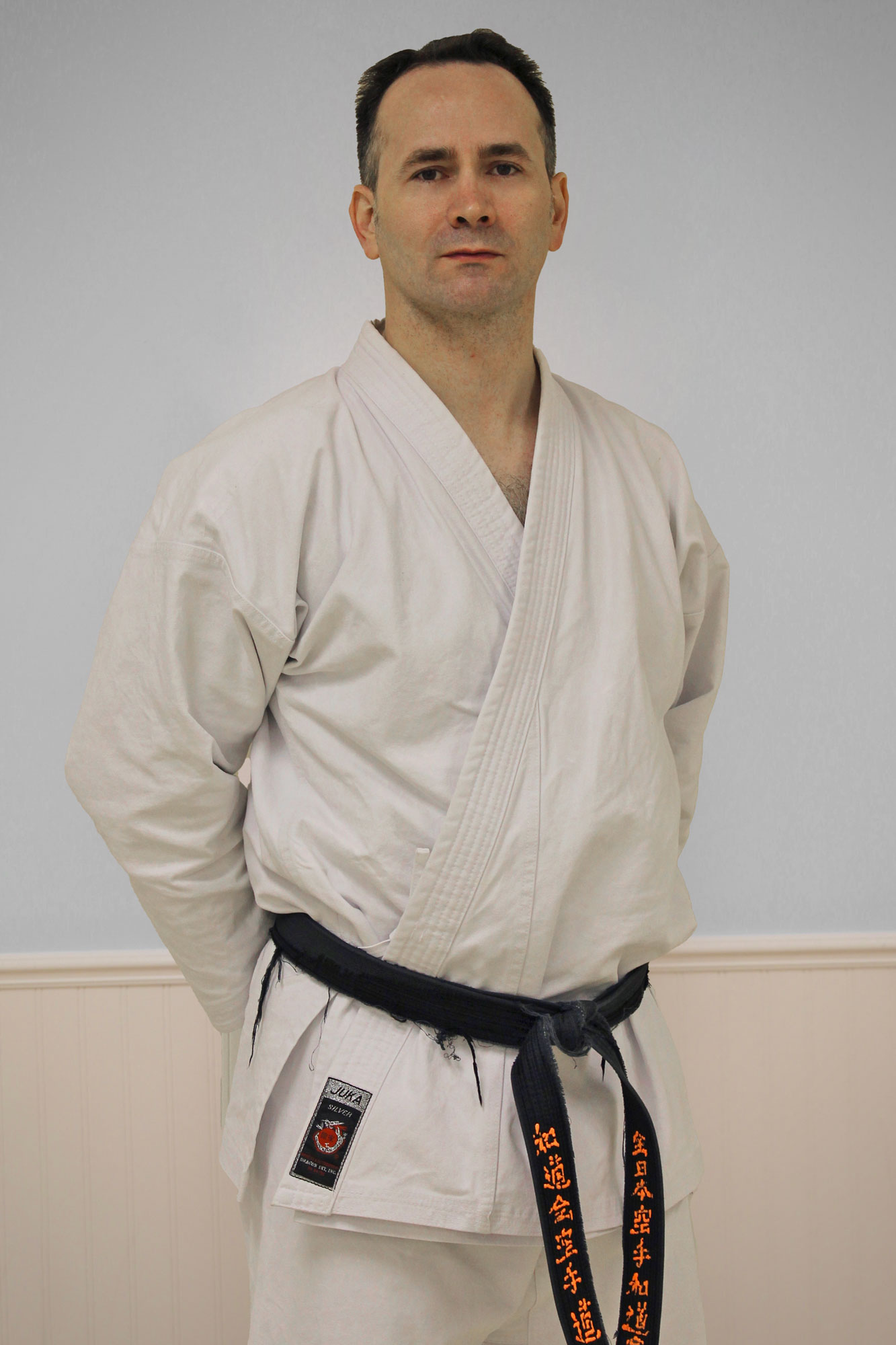 Craig Pettie
Director, President
Grading and Curriculum Committee Member
Sensei Craig Pettie, 5th Dan, started karate in 1989 and received his first degree black belt rank in 1992. He has been teaching youth and adult karate programs since 1991.  He received his Godan in May of 2019.
In addition to karate instruction, Sensei Pettie has many years of experience working with children in a variety of therapeutic settings and disciplines (Psychology, School Rehabilitation and Physical Therapy). In 2002 Sensei Pettie shifted careers and is now in the Information Technology industry as a Systems Analyst/Developer.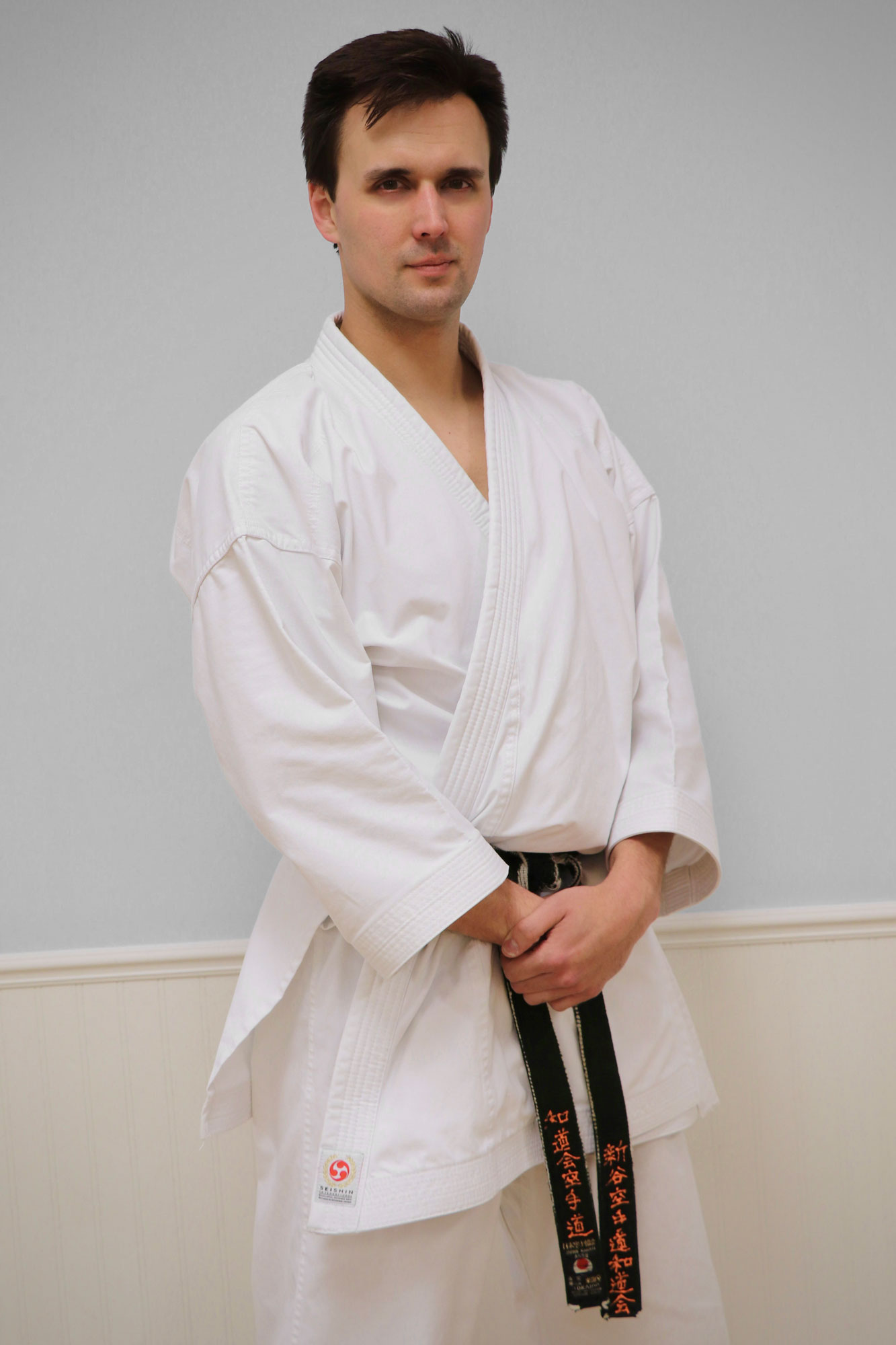 Scott Knowles
Director
Grading and Curriculum Committee Member, Marketing Committee Member
Sensei Scott Knowles, 4th Dan, began training in karate in 1994 at the age six.  He earned the rank of Shodan in May of 2007, Nidan in May of 2010, Sandan in May of 2014, and Yodan in May of 2019.  Sensei Scott has been teaching youth and adult students since 2002, and has taken on the role of Head Instructor for the BKA youth and adult programs.  
Sensei Scott has received certification as an instructor in the Bunkai principles of Sensei Iain Abernethy.  He has also received a Salute to Sports Excellence award from the City of Edmonton, and the 2021 SWKKF Leadership Award.
Sensei Scott is active on the tournament circuit, achieving success in both kata and kumite decisions at events across the country.  He attended the Shintani National Team Tryouts in 2008, 2010, and 2012, and held a middleweight position on the Shintani Canadian National Team.
Sensei Scott earned his BSc in Computing Science at the University of Alberta (with specialization in Business), and has gone on to form his own development company, with several clients across the province.
When he's not working or training, Sensei has a passion for photography, art, video games, and skiing.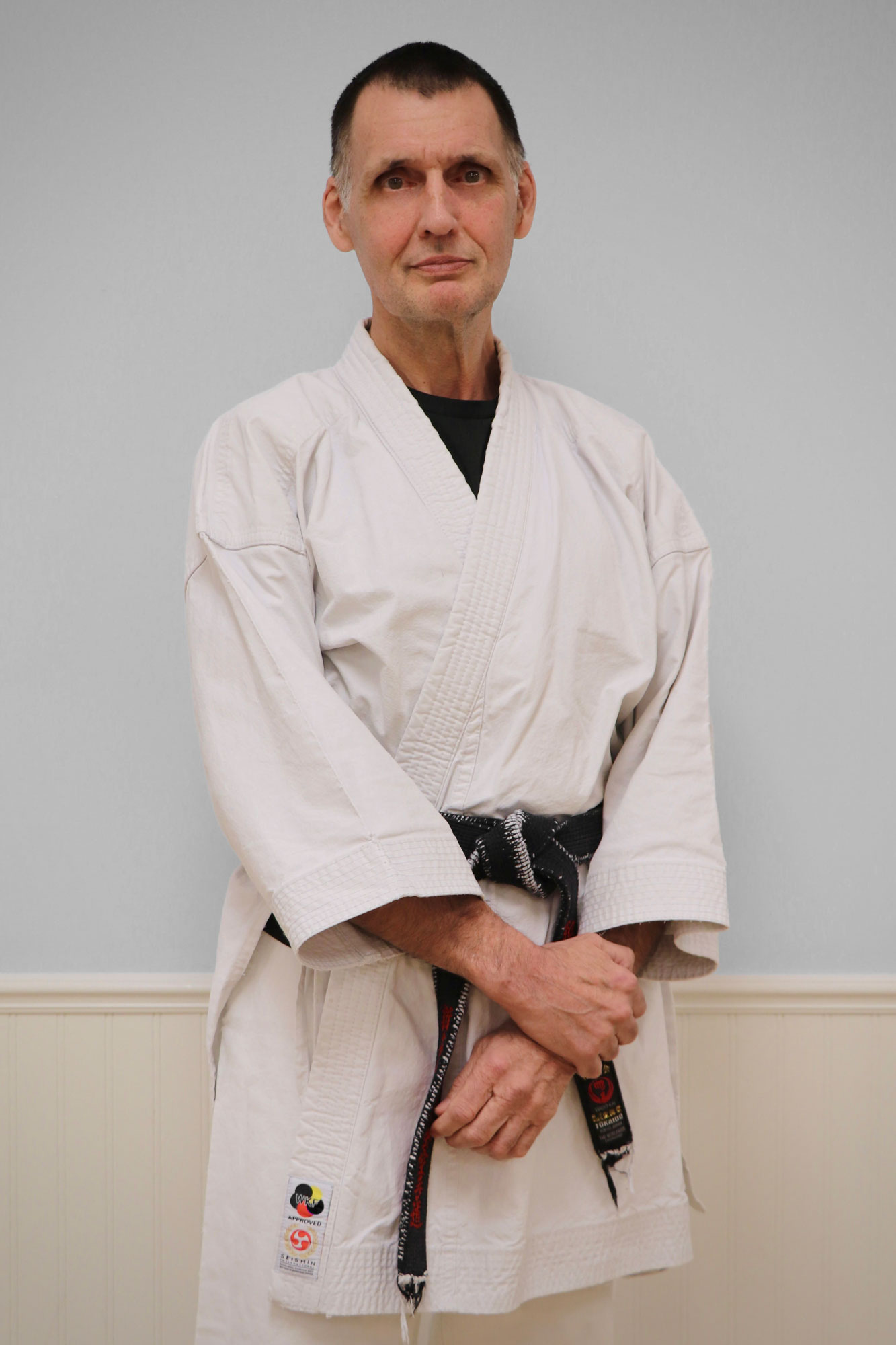 Elliott Knowles
Director, Vice President
Marketing Committee Member
Sensei Elliott Knowles has been studying karate since the spring of 2002. He has been active in teaching various programs in southwest Edmonton since 2004. Originally training with the University of Alberta club, he moved to and joined the SWKKF and the Bushido Karate Association in October 2006. He received his Shodan ranking in May of 2008.
Sensei Elliott has been an active athlete most of his adult life and has focused on karate, triathlons, skiing, scuba diving, and weightlifting as his primary areas of interest. He has competed in and won within his division at multiple karate tournaments within the province. He has travelled the country and North America to compete in triathlons, and was highly ranked within his age group nationally and provincially. His personal best in an Olympic distance event was 2:18 in Calgary.
Sensei Elliott is married with two children, both of whom also train under Sensei Freeman at the Bushido Karate Association, he is extremely proud of both of them.
Since graduating from Business he has worked in the advertising and marketing community in Edmonton. He has been self employed as a Marketing / Advertising and Design consultant for the past 8 years. E Graphics and Design representing several retailers in the Edmonton area.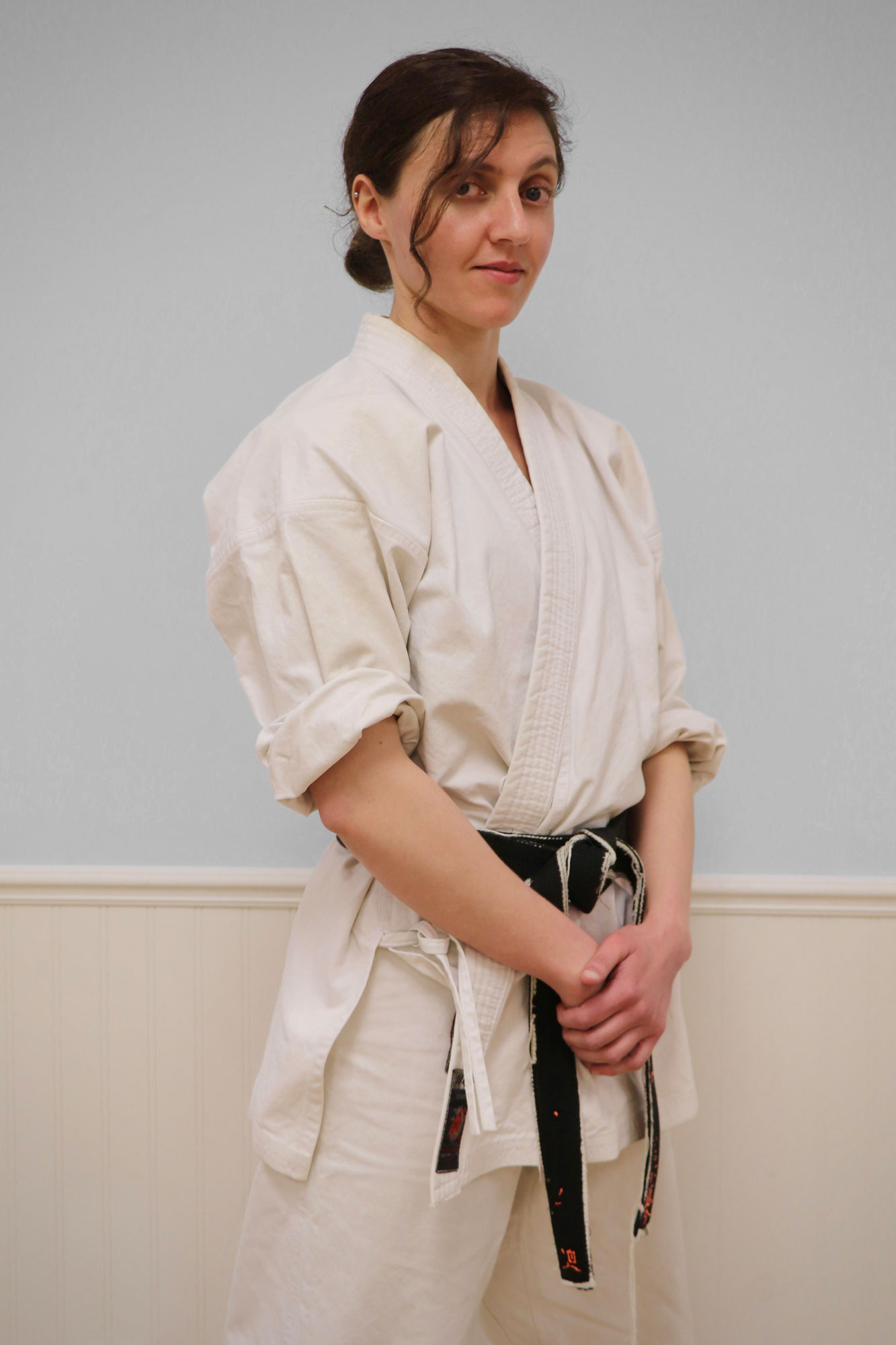 Bernadine Jugdutt
Director
Grading and Curriculum Committee Member
Sensei Bernadine Jugdutt, 3rd Dan, has been training in Wado-Kai karate since 1994. She started training with the Bushido Karate Association in 2004, and since then earned her Shodan rank in 2010, her Nidan in 2016, and her Sandan in May 2019. She is currently an active instructor with the BKA Grandview program as well as one of the head coaches of the BKA Team.
Bernadine received her B.Sc. in Physics from the University of Alberta in 2012. In the summer of 2012, she relocated to Montreal to pursue an M.Sc. in Physics. During this time she was fortunate to secure the lightweight women's position on the 2012-2014 Shintani Canadian National Team, and had the opportunity to train and compete in dojos across Canada.
After completing her M.Sc. in 2015, Bernadine returned to Edmonton and resumed a teaching role with the BKA. She received her MD in 2021 and is currently doing her residency in Internal Medicine at the University of Alberta.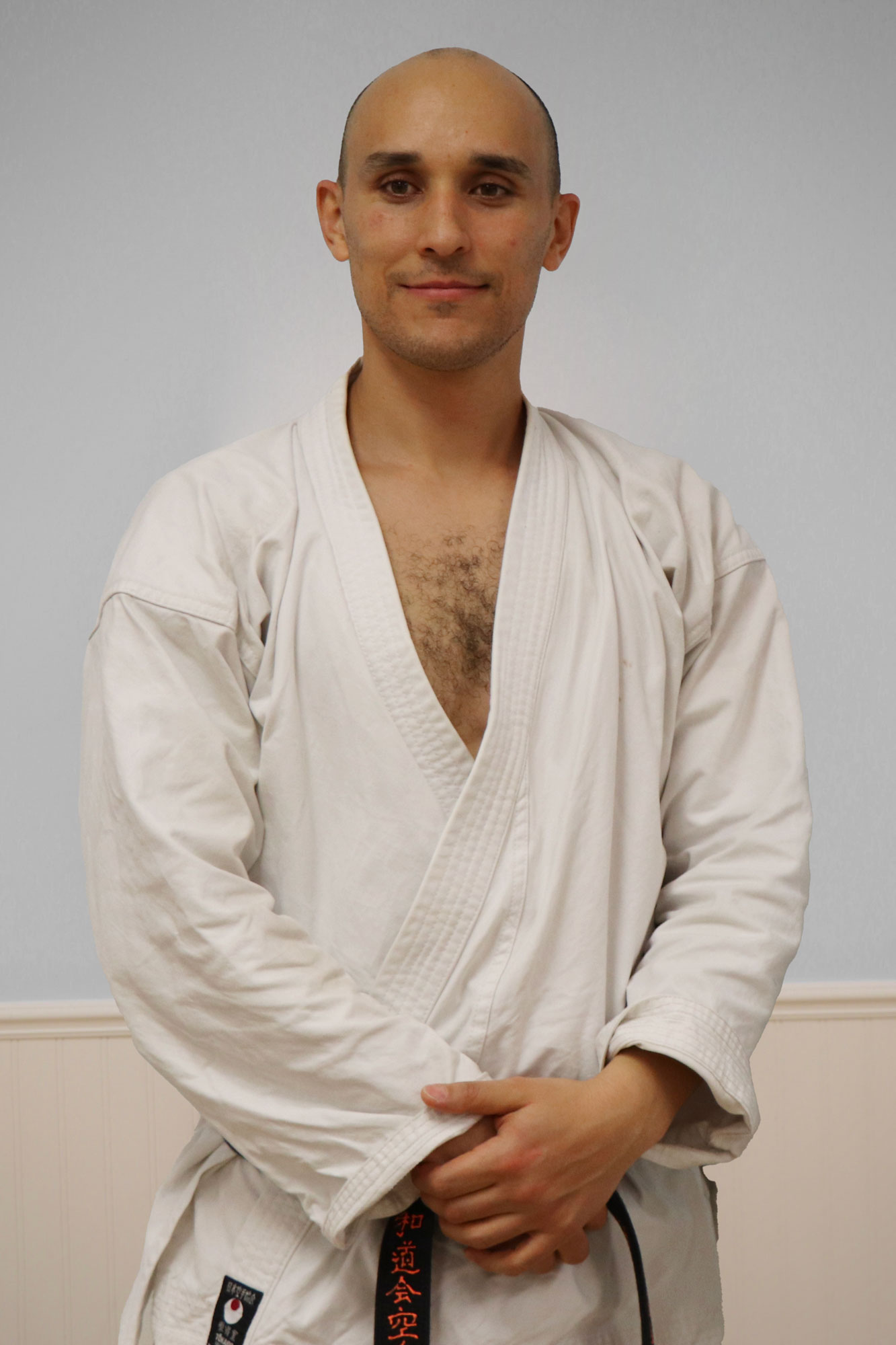 Natty Aytenfisu
Director
Sensei Natty Aytenfisu, 3rd Dan, has been training in karate since the early 1990s, and is one of Sensei Freeman and Sensei Pettie's earliest students.  Natty has a BSc in Mechanical Engineering from the U of A, and has been working at Enbridge since 2009.  He will bring a great perspective on karate and our organization to Board meetings, and is a welcome addition to the team.
Former Board Members
Mike Reynolds, Crystal Reynolds, Raye Willms, Kelsey Mramor, Angela Juby, John Van-Aerde, Jennifer Cockrall-King, Sandra Freeman, Maureen Aytenfisu, Joy Eustace.